<![if !vml]><![endif]>
The Grant Servo-Electric Power-Head Riveter is the most durable riveter offered in the world today. Grant Riveters are a 100% guaranteed and placed into service with an unprecedented Two and or Three Year Warranty. Our riveters are designed to meet your specific needs in riveting today and in tomorrows applications. Each riveter, no matter if it is from our pneumatic, hydraulic or servo-electric line offers the most reliable and repeatable riveting cycle day in and day out. You will not be replacing bearings often in our riveting machines. We have designed our units based upon a 100% safety factor. Do not settle for anything less. We offer true Multi-process riveter capable of Orbital, Twin-Spin, Multi-Spin and Spin-Press forming techniques all in the same machine. Typical cycle time is 0.5 to 1.5 seconds with most all riveting applications. Our skilled and highly experienced team will select the right forming technique that lends itself best to your product design. Our product line is rated in mild steel solid rivet diameters ranging from 3mm to 38mm rivet diameter capacity machines. The system typically can utilize a very simple work holding fixture. Since we use controlled rivet forming techniques to fasten the rivet, the tonnage on our machine is much less than all other competitors equipment. Thus making our equipment much more affordable. Let us quote your next riveting system and we will prove it to you.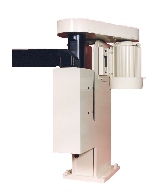 Key Benefits
Modular Design
Precision 100% Programmable Stroke Adjustment
Precision 100% Programmable Stroke Profile
Four Riveting Process - Orbital, Twin-Spin, Multi-Spin & Spin-Press Forming Techniques!
Extremely Fast Cycle Rate 100% Programmable
Rivets Fasten with the Best Control with 100% Real-Time Inspection
Highest Cost Savings Compared to Any Other Riveting System!
POWER-HEAD RIVETERS

SERVO ELECTRIC

MODEL

SGS-010

SGS-013

SGS-016

SGS-022HD

SGS-026

SGS-032

Rivet Diameter
Capacity in Mild 1018 Steel

0.393" DIA.
(10 mm)

0.511" DIA.
(13 mm)

0.63" DIA.
(16 mm)

0.866" DIA.
(22 mm)

1.023" DIA.
(26 mm)

1.250" DIA.
(32 mm)

Adjustable Stroke

Maximum Downward Force

Motor 3PH, 230/460V, 60Hz
SERVO-ELECTRIC MACHINE FEATURES & OPTIONS

100% Electric System

the same Morning, Noon and Night

Multi-process

Tooling; Orbital,

All Bearings

Are Lubricated

For Life

Emerson Servo Electric Controls with Easy Touch Screen Operator Interface

High Positioning Repeatability +\- .0005"

High/Low Settable Depth/Pressure

Real-Time Inspection Feedback

Initial Start-Up

to Complete

Debug within

Two Hours
Servo Electric Model Machines come standard with Emerson brand servo components. Our units can be programmed and fully debugged for any application within two hours from an initial start-up. This machine will plug in and run with virtually zero maintenance. This is absolutely the best riveter in the world inspecting 100% of the product that it produces. This machine will not make a mistake ever. When you buy a Grant Riveter, you buy it for life!
Current Pricing (as of Thursday, 04 June 2009)
Servo-Electric Power-Head Pricing

Description
Model #
Price US

10MM

SGS-010BT
$32,500
13MM
SGS-013BT
$36,350
16MM
SGS-016BT
$41,250
22MM
SGS-022HDBT
$58,750
26MM
SGS-026BT
$72,950
32MM
SGS-032BT
Call
All prices are based upon application specifications. Prices shown are subject to change without notice. All riveters include standard Orbital tooling. Delivery is approximately 10 to 12 weeks. Machine specification are subject to change without notice. Please contact the Grant Riveters Sales Department at (203)-366-4558 or write us at sales@grantriveters.com.
---